2006 Regions Morgan Keegan and Cellular South Cup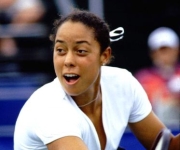 A Brief Glimmer Before Fall
By Tripp Mateschitz, Lawn Tennis Correspondent
February 19, 2006 8:38pm CST USA
Sunday afternoon in Memphis at the Cellular South Cup, former Wimbledon semifinalist Alexandra Stevenson of the USA showed patches of brilliance but was in the end overcome in part by her own unforced errors. The fact that the 648th ranked Stevenson was awarded a wildcard into the main draw sparked some controversy among tennis fans, but Memphis locals appeared glad to see Stevenson, as if she were an old friend. Stevenson had reached the Memphis final in 2002, but this year had the misfortune of drawing Sofia Arvidsson of Sweden, ranked 45th for Sunday's round one match.
Arvidsson's mix of power and precision was too steady for Stevenson, who was playing only her third WTA Tour match of 2006 due to a recent shoulder surgery. Stevenson bowed out 6-2, 6-4 in one hour and seven minutes.
But from the start of the match, it was vintage Alexandra. Playing her brand of hit or miss power tennis, Stevenson would routinely hit a touch volley or laser groundstroke winner, but then follow with groundstrokes long or wide and missed first serves. Twenty-nine minutes later, Arvidsson hit a 103 mile per hour ace out wide to take set one 6-2.
Serving down 1-3 in set two, Stevenson went to plan B: hit even harder. Hitting each serve 100 plus miles per hour including a 110 miles per hour serve, Stevenson won three games in a row to go ahead 4-3. Two chair umpire overrules at this point could have unnerved Alexandra who after the second overrule replied, "oh come on, it was not on the edge." But more likely it was Arvidsson's retrieval of nearly every ball to come her way.
Stevenson managed to save one matchpoint with a missile backhand down the line winner. "That was amazing," a Stevenson supporter shouted. But it was only a brief glimmer before two more unforced errors from Stevenson sealed her fall.