ITF Bans Karatantcheva For Two Years
By Tripp Mateschitz, Lawn Tennis Correspondent
Posted: Tuesday, January 17, 2006 5:18am CST USA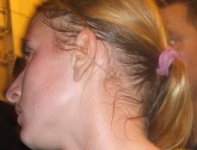 I met the 2004 Roland Garros junior champion Sesil Karatantcheva of Bulgaria in the spring of 2005, and she was as carefree and outspoken as I imagined any 16 year old would be. When asked by a WTA Tour official to conduct a tennis clinic on the following day, Karatantcheva smiled and replied, "Why do I want to say no?"
The next day after losing her tennis match, Karatantcheva hurried from the court visibly upset. Her ever-present father/coach Radoslav Karatanchev followed her towards the locker room like a shadow. As I prepared to snap an image, Sesil quickly turned away and then she was gone.
About three months later Karatantcheva stunned Venus Williams in round three at Roland Garros 6-3, 1-6, 6-1 before losing herself in the quarterfinals. Then in December, a French newspaper reported that Karatantcheva had tested positive for a banned substance.
Finally last week the ITF confirmed that Sesil Karatantcheva had tested positive twice in 2005 for the banned steroid nandrolone and would be banned for two years, barring a successful appeal from Karatantcheva.
Karatantcheva the next day gave a press conference with her father proclaiming her intention to appeal. She left it her father to explain the "personal" matter of her excuse for her positive tests. Karatanchev asserted that Karatantcheva had had a failed pregnancy and this was the reason the nandroline was visible her doping tests.
One has to wonder why the ITF failed to believe this explanation and if Karatantcheva would be successful in her appeal. If not Karatantcheva is only 16 and can use the next two years developing her game. She should be taller, more powerful and perhaps more skilled at age 18.
Karatantcheva revealed earlier that when she first started to play tennis at age five, she thought it was ridiculous and getting in the way of her going to the movies and spending time with her friends. Barring a successful appeal, Karatantcheva should be able to catch up on movies, friendships and hopefully some tennis practice as well during these next two years. Everybody loves a good comeback story.
©2005-2006 Lawn Tennis - News Archive | Home