Hingis' Cinderella Melbourne Ends In Quarterfinals
By Tripp Mateschitz, Lawn Tennis Correspondent
Posted: Wednesday, January 25, 2006 1:29pm CST USA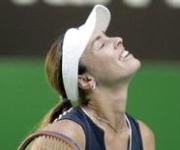 Former number one Martina Hingis faced Kim Clijsters, number one come Monday, in the Australian Open quarterfinals Wednesday in the most anticipated ladies' match so far of the tournament and finished just short 6-3, 2-6, 6-4.
Martina Hingis has changed her game in several ways since her three year layoff from injury, but for the most part it was vintage Hingis which was great to see in today's game dominated by power tennis. It reminded me of old times: the lobs, the half volleys, the topspins and the slices all served up with a wicked smile.
From the start of the match, Clijsters pressured Hingis' serve which has improved but still was very attackable this match. Case in point: Clijsters' average second serve speed and Hingis' average first serve speed both were the exact same 144 km/h. Martina made a decision to take some pace off her first serve early in the match to get it in which may have been a smart tactic if Clijsters was not hitting first serve return winners. Hingis, down 0-4, was less tentative with her shots the next few games. But Clijsters went on to a 6-3, 2-0 lead with some aggressive play of her own and crucial errors from Hingis.
At this point in the match Martina cleaned up her errors and mixed in some serve and volley and hard flat groundstrokes which surprised Clijsters. Hingis won six games in a row to take the second set 6-2.
In set three Hingis drew even at 3 all after going down 0-2 with some clever dropshots and angled groundstrokes to force errors from Clijsters. But in the seventh game of set three Hingis lost serve again, never to recover.
Martina Hingis is still playing percentage tennis; still getting the ball in and waiting for her chances to attack, but often times she is taking those chances earlier in points than she ever did before her injuries. Two backhand errors from Hingis ended the match. It was a shame that Hingis was not only a bit more consistent in a match where Martina won 96 points and Kim won 100. Two or three points really were decisive at the end of a match which could have gone either way.
But Hingis had competed with a powerful player and had displayed new found power of her own. One hour and forty-two minutes into the quarterfinal match, Martina Hingis had lost to Kim Clijsters, and her Cinderella story was over. For now.
©2005-2006 Lawn Tennis - News Archive | Home