Hingis Remains Positive Dispite Two Loses
By Tripp Mateschitz, Lawn Tennis Correspondent
Posted: Thursday, January 12, 2006 6:05am CST USA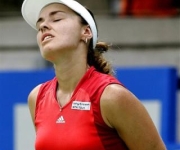 Former tennis teen queen Martina Hingis of Switzerland returned to professional tennis last week at Gold Coast, Australia and suffered a 1-6, 7-6 (7-2), 6-2 semifinal loss to Italy's Flavia Pennetta after three victories. Foot injuries forced the five time grand slam titlist out of the game in 2002, but last week it was a hip strain which hindered Hingis.
This week at the Sydney International, the inevitable happened as Hingis, unranked and unseeded, drew the reigning Roland Garros champion Justin Henin-Hardenne as her round one opponent in Sydney, Australia. After 66 minutes the match was over and Hingis had lost 6-3, 6-3 in round one of a tournament she had previously won three times. Henin-Hardenne by reports was a step faster and stronger than Hingis and attacked Hingis' serve from the start of the match. Henin-Hardenne broke Hingis' serve in the opening game and four times in the match. However Hingis remained positive, "I chose to come to know where I'm at. I know what I'm aiming for now. It's good to know how I played, how the match went. She was at a different level today. I have to be patient. It just takes a lot of tournaments, a lot of matches to prepare."
Known for her sterling selection of spins and thoughtful, craftmanship around the court, Martina Hingis will need to reveal some added power in order to reclaim her top spot with the game's elite players. Henin-Hardenne, who at five-foot-six is more or less the same size as Hingis, has shown she can counter the power game of today's players. But the question remains, can Martina? Hingis gets another shot at it next week at the Australian Open in Melbourne, Australia where for the first time in years all of the top 10 WTA Tour players are entered.
©2005-2006 Lawn Tennis - All Rights Reserved - News Archive | Home