Lawn Tennis Special Report
Friday, August 19, 2005 1:29pm CST USA

An Army of Annas
Lawn Tennis Reviews Anna's Army: Behind the Rise of Russian Women's Tennis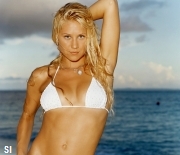 Somewhere in Russia a man and a woman hit an icy street, television in hand determined to score some fast cash. Not for themselves, but for their cute as a button tennis playing daughter; a four year old by the name of Anna Kournikova. Twenty years later after moderate success on the WTA Tour and much more success off it with her breathtaking looks, Anna Kournikova's professional tennis career seems in limbo. Kournikova currently only plays tennis exhibitions but is planning a possible comeback to professional tennis from a serious back injury. Anna left the WTA Tour in 2003, but not before inspiring her army.
Released this summer by Byzantium Productions, Anna's Army: Behind the Rise of Russian Women's Tennis is an instant classic. A must have DVD for serious tennis fans worldwide, the film includes high quality rare oncourt and offcourt footage of the current Russian tennis players Anna Kournikova, Maria Sharapova, Svetlana Kuznetsova, Elena Dementieva, Anastasia Myskina, Nadia Petrova, Vera Zvonareva as well as pioneer Russians such as 1974 Wimbledon Finalist Olga Morozova.
A decade after Kournikova arrived at the Nick Bollettieri Tennis Academy at age nine, a taller, seemingly more powerful Russian teenager was hoping for her own success and secretly training there. Maria Sharapova and her father as the legend goes showed up uninvited with $700 and bags in hand. "We had a 50-50 chance," Maria is rumored to have said. Sharapova grew to be quite beautiful herself but more consistent during points on the tennis court than Kournikova. "Anna Kournikova with game," Billie Jean King declares.
Anna's Army goes deep into the current Russian wave of ladies' tennis players explaining why more female than male Russians experience professional success. Go inside very roots of tennis in Russia including former Russian President Boris Yeltsin's influence on the sport and the great Russian training ground, the Spartak Club in Moscow.
"We only had one indoor court so there wasn't enough time to play," Kournikova explains of a country of eight months of icy, snowy winter. Billie Jean King in the DVD credits Kournikova's early success and fame for the current group of Russians. But Kournikova's looks were helpful as well as King discloses, "Men control 90% of the media."
Anna's Army: Behind the Rise of Russian Women's Tennis
Web: www.annasarmy.com
To Read More Of This Story Subscribe Here


©2005-2007 Lawn Tennis - All Rights Reserved - Home